भक्ति शास्त्री कोर्स में आपका स्वागत है। इस पाठ्यक्रम में चार पुस्तकों का गहन अध्ययन शामिल है:
1. भगवद-गीता
2. भक्तिरसामृतसिन्धु
3. उपदेशामृत
4. श्री ईशोपनिषद्।

श्रील प्रभुपाद ने इसकी कल्पना ब्राह्मणवादी प्रशिक्षण के एक भाग के रूप में की थी। यह उन भक्तों के लिए है जो श्रील प्रभुपाद की पुस्तकों की एक व्यवस्थित समझ प्राप्त करना चाहते हैं और इस तरह कृष्णभावनामृत के अपने ज्ञान और अभ्यास और इसके संदेश को व्यक्त करने की उनकी क्षमता दोनों को बढ़ाते हैं।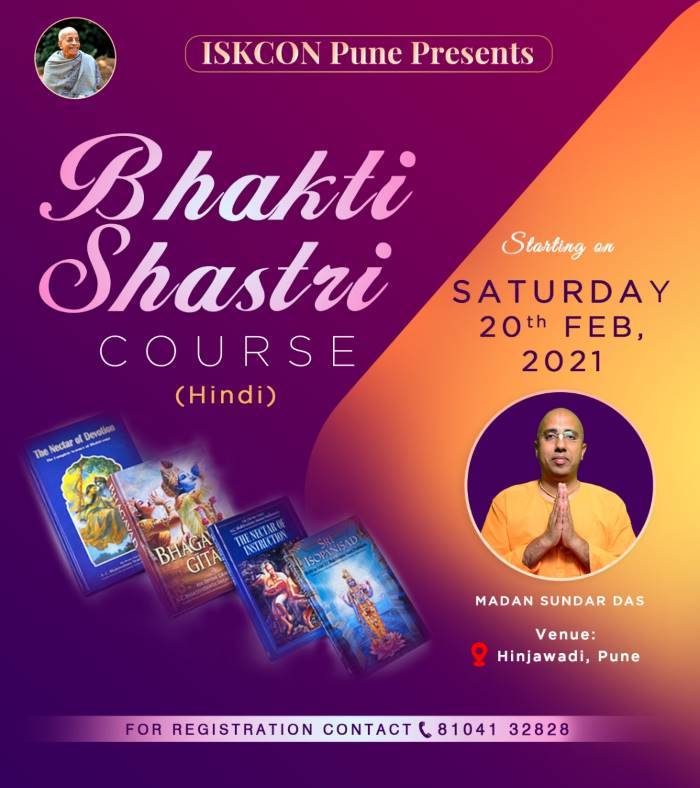 Important Announcement
In case you wish to attend the course but are unable to write the exams then there is no course fees. You may choose to give any donation towards facilitating shastric education. Kindly note certificate of completion will be awarded to those who attend all the quizzes, sloka tests, open book assignments.
I enjoyed the entire journey of Gita Essence so beautifully delivered by Madan Sundar Prabhu. Though I had read Shrimad Bhagwat Gita small book printed by Gita press multiple times but never got involved as I did during your discourse. I shall now read again the 'Bhagavad - Gita as it is' by A. C. Bhaktivedanta Swami Prabhupadaji. My honest gratitude to you for exposing me to this treasure of wealth.
Lt Col Ajay
Retired Army Officer
Post Graduate, Cranfield
University, United Kingdom.
Feedback about the Gita Essence Course : We are indeed blessed to be connected with EvolvePune and Madan Sundar Prabhuji. The courses conducted by them are very well designed.
Dr. Pinky Kukreja
Dental Surgeon (B.D.S)
Bhagavad Gita is a mine of knowledge and wisdom, from where we try to gather most, because of Madan Sundar Prabhu's efforts. Thanks for everything you provide us.
Dr Shreshtha Malvia Goel
ICMR- Research Scientist
The courses are very useful and structured in a manner that makes the subject matter easier to assimilate. The presentation was very inspiring and motivating that made the sessions very lively and interesting.
Mukundan Seshasayee
Managing Consultant
Wipro Technologies.
Excellent sessions by Madan Sundar Prabhuji. It's so enriching that our entire family listens to his recordings over and over again on YouTube. Your wonderful oratory and thorough research makes it a truly rewarding experience. Feels so blessed to be part of these sessions.
Smitha Nair
Industry Analyst at Frost and Sullivan India Pvt Ltd
Really blessed and fortunate to have Madan Sundar prabhu as a facilitator. He has unique and special blend of deep knowledge with practical examples with sense of humour!
Ajit Deshmukh
Global Lean Senior Improvement Manager in Atos
Thank you for this wonderful course. I am indebted for this opportunity to learn and grow in my Spiritual life. It's all so wonderful.
Nidhi Lakhiani
BBA (2nd year)
This course teaches us the unique way of living that eases off our tension and offers a happy living. Gita apart from being a religious scripture, is a scripture of life as well. The facilitation is fantastic, high clarity, easy to understand, great command over language and speech is fantastic. Everybody will love to listen him.
Suresh Malvia
Dy. GM (Rtd.)
Don't miss the chance,
register now